If you live in Perth and suburbs area need to rent a skip bin to help you with all your rubbish removal, then you have come to the right website. 1300 Skip Bin Hire are the professional of rubbish removal services that provide you with the complete package when it comes to hiring skip bins Perth.
As a family-owned and operated business, part of our plan is to provide Perth residents and commercial enterprises with the right bins; in terms of skip bin sizes and type; for their rubbish requirements and clean-ups. We work on an effective and efficient service where we assess the amount and type of waste you need to be removed then provide you with the skip bins that match those requirements.
As a rubbish removal specialist, we provide a high-quality service, but more importantly, we provide affordable skip bin hire Perth prices and rates. All you have to do is contact us directly and we can begin the process of providing you with the right skip bin.
Skip Bin Sizes and Types
1300 Skip Bin Hire offers a wide selection of bins ranging from 2m3 to 10m3 and all our bins are "walk-in" type making life easier for you! We are not allowed to carry an unsafe load – so your bin must be safely stacked to the upper rim so that it can be tied down and tarped. The contents of the skip bin should not be able to move in transit and must not hang over the sides. Weight limits and restrictions apply to all bin sizes, please enquirer within. Extra charges apply to overweight bins please reach our team for more detailed info. For a list of our skip bin sizes please see the chart below.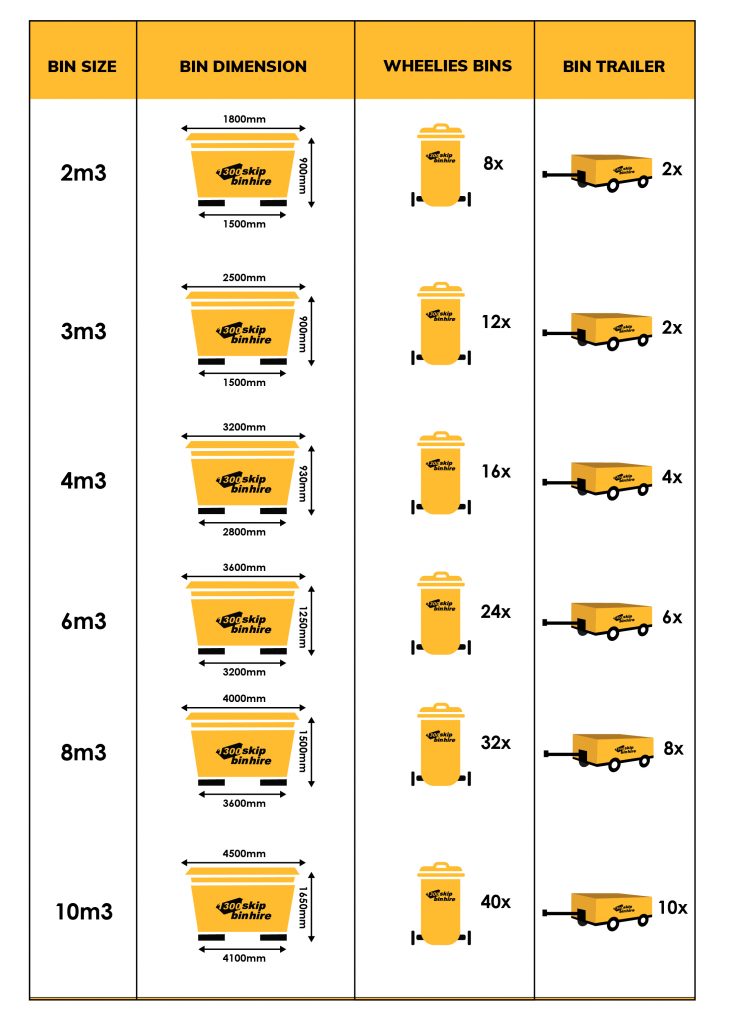 Why Hire a Skip from 1300 Skip Bin Hire?
1300 Skip Bin Hire is now offering a range of skip bins for all your rubbish and waste removal needs! We have a large range of skip bin hire with prompt delivery at affordable prices throughout Perth Metropolitan and suburbs. Here are the more reasons why you should hire a skip from us:
1. Years of Experience
We know what it takes to provide the right skip bin sizes for you, as we have been in the coastal waste management industry for years. With our knowledge, you can expect the perfect skip bin sizes for you.
2. Customer Satisfaction Guaranteed
When you speak to our team of professionals, you will be greeted with respect and honesty. We will tell you straight how things are and what you need for your rubbish based on your requirement.
3. Made For All
Our range of coastal skips can be hired by anyone. From large commercial clients to small residential properties, we have the array of skip bin sizes for you.
4. Best Prices in Perth
With us, you can expect a fair and honest price. We are not here to mislead you but provide you with an honest assessment of your instant skip bin hire requirements. We will even get the process started with a free quote!
1300 Skip Bin Hire is Here To Help You
Our rubbish removal services are about helping you remove all the rubbish from your property, regardless if it a residential property or a commercial enterprise. We can help by providing you with the right skip bin that aims at managing the removal of all your rubbish. By assessing the type of rubbish you have, as well as the amount, we will be able to provide you with the skip bin that provides you with all the space and room you need.
We are known for our affordable prices throughout Perth Metropolitan and suburbs. We want to give you the best deal in the state, starting with a free quote. You can be sure that with us you will get the fairest skip bin hire price on the market and for whatever reason, you see fit.
Here are some of the most popular reasons for hiring a skip bin from us:
✔ Spring Cleaning
✔ Construction/Builder Clean-Ups
✔ Renovation Projects
✔ End of Lease Clean-Up (Both Residential & Commercial)
✔ Moving Out
✔ Office Clean-Ups
✔ Residential Clean-Ups
✔ Retail, Stores Clean-Ups