When it comes to collecting and removing rubbish from your home or business, you don't want to pay over the odds. That won't happen with 1300 Skip Bin Hire. We have always believed that people should have the opportunity to get their rubbish removed with the help of skip bin hire services that have affordable and fair prices.
Therefore, our skip bin hire prices are among the cheapest from other distributors in the Perth Metro area. If you are looking to hire our skip bins, get in touch with us today. We will provide you with a free quote, and we are available to hire 7 days a week and available throughout Perth and suburbs area.
Why you should consider hiring a skip bin from us?
Affordable skip bin hire prices are one of the many reasons why you should hire a skip bin from us, 1300 Skip Bin Hire. However, we understand a cheap price is not always the reason, therefore, here are some of our value based on our customers' reviews:
Skip Bins for Different Rubbish & Waste – Depending on the type of rubbish you have to remove, we will provide you with the right skip bin for you.
Large Collection of Skip Bins – We have a wide selection of skip bin sizes that can be hired. Depending on the amount you have, and the type of waste, we will give you the perfect skip bin based on your requirement.
On-time Delivery To Your Location – Our skip bins are available to be delivered throughout Perth. From the Northern to the Southern border suburbs, we will deliver the skip bin right to your door or work site.
Always Free Quotes – We are happy to provide you with a free quote to get the ball rolling. Everything will be included in our quote so there will be no hidden fees once the collection time is due.
Is a permit required to use a bin hire?
Yes and no, depending on how you use it. If you are placing the bin hire on your property area, this will not require any permit, e.g your backyard or driveway. However, if you are planning to place the bin hire on the road or common public place, this will need a permit from the local council. Rest assured, the permit application process is already taken care by our team, therefore, you can place the bin hire without worrying any extra charge from permit fees.
How much to rent a skip bin from us?
Yes, know you already understand about our services, therefore, if you are planning to rent a skip bin from us, please see the skip bin hire prices chart below for your guidance.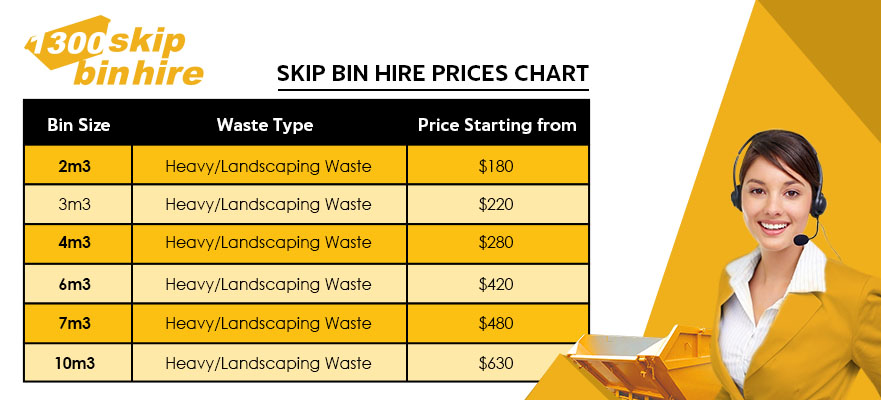 Please note, these items are not allowed inside the bin hire:
No Asbestos.
No Liquids.
No Car/Truck Batteries.
No Mattresses.
No Tyres.
No Food Waste.
No Gas Bottles.
No Gas Flares.
Hire a skip bin now!
To ease the hiring process, our team have prepared an instant skip bin hire booking system that you can follow with only 4 easy steps and the bins of your choice will be sent to you on the selected date. Additionally, our bins don't have any weight limitation as long as it's not overfilling the skip for a minimum of 7 days rent.